Established in 2004, Riverside Greenhouses is a family owned and operated wholesale greenhouse growing facility located in scenic Northwest, NJ.  We supply independent garden centers, florists and landscapers with quality product and reliable service.
Abe and Bev Willekes purchased a 35 acre piece of farmland from a dairy farmer in Allamuchy, NJ, and started with 16,000 square feet of greenhouses space. After 15 years Riverside Greenhouses has expanded to its current 70,000 square feet undercover space and 7 acres of outdoor production space.
In the early years Riverside Greenhouses product line was simple, consisting only of bedding plants, hanging baskets and 8" fall mums. We have now expanded our spring annual line to a very extensive list of products starting in the early Spring with pansies, proven winners, vegetable plants, 5", 6" and 8" annuals and 11", 12" and 16" hanging baskets.
Riverside Greenhouses plants a diverse line of summer annuals and a full line of mums, cabbage, kale, millet and pansies in the fall, continuing in the winter with a beautiful crop of Poinsettias.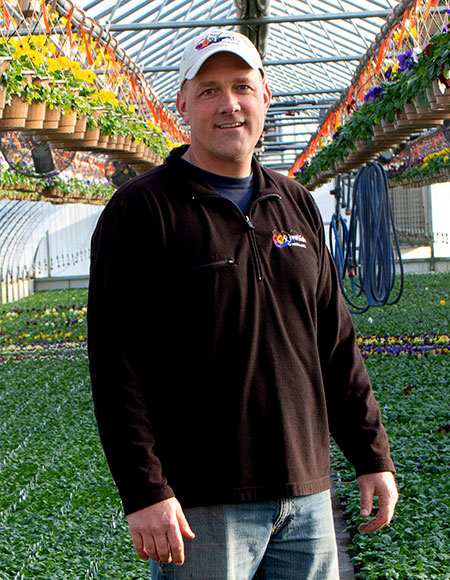 Welcome To
Riverside Greenhouses
With over 25 years of growing experience, Riverside Greenhouses is committed to growing the best quality of plants and giving exceptional customer service.
At Riverside Greenhouses we encourage you to stop in and see our latest seasonal offerings and meet our friendly, hardworking staff.  We look forward to building a strong working relationship with you.

Riverside Greenhouses success is its dedicated staff.  At the peak of the growing season we have over 20 greenhouse workers, office staff and drivers to make sure our customers get a quality product delivered.  Riverside Greenhouses staff takes a great deal of pride in their work to ensure quality and customer service is met.