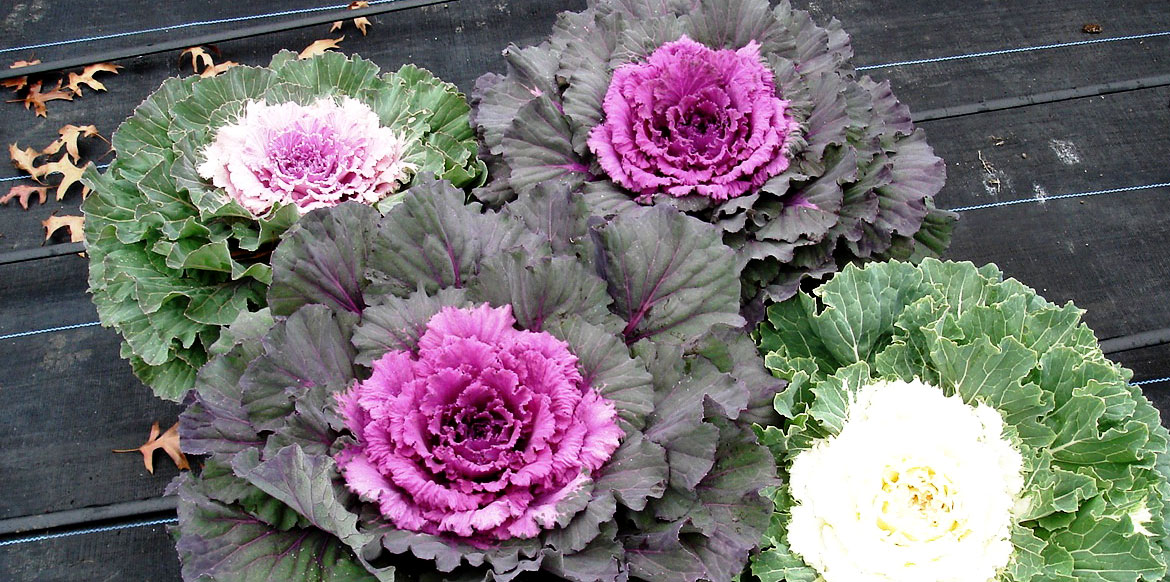 What's the scoop on Ornamental Cabbage and Kale?
Ornamental Cabbage and Kale are a great addition to the fall planting season.  At Riverside Greenhouses we plant over 15000 cabbage and kale in 5″ and 8″ pots.  Ornamental Cabbage and Kale are a great addition to fall as they withstand a frost in our area.
Ornamental cabbage and kale look and grow very much like their close relatives of edible cabbages and kale. Although you could eat them, they have been bred for looks, not flavor.  Their leaves have been hybridized to feature purple, rosy, and creamy white colors, making them look more like large flowers than vegetables.
Plants with smooth leaf margins are called flowering cabbage, while those with serrated or fringed leaf margins are considered flowering kales. Just like their edible cousins, ornamental cabbage and kale are cool-season annuals. Ornamental cabbage and kale look especially good in a large planting or as edging plants, where their purplish hues blend in well with other fall colors. Or, use them to replace warm-weather annuals in your containers over the winter. Read More…
Click here to view this week's current availability
Related
---
AbeW
Riverside Greenhouse is a wholesale greenhouse located in North Jersey that provides a consistent availability of plant products throughout all four seasons. Flowering annuals are carefully grown and sold in flats, various sized pots, and hanging baskets for spring, summer and fall. Mums, Cabbage, Kale, and Pansies are grown for the fall and Poinsettias for the winter. We supply products to Garden Centers, Florists and Landscapers in the tri state area.