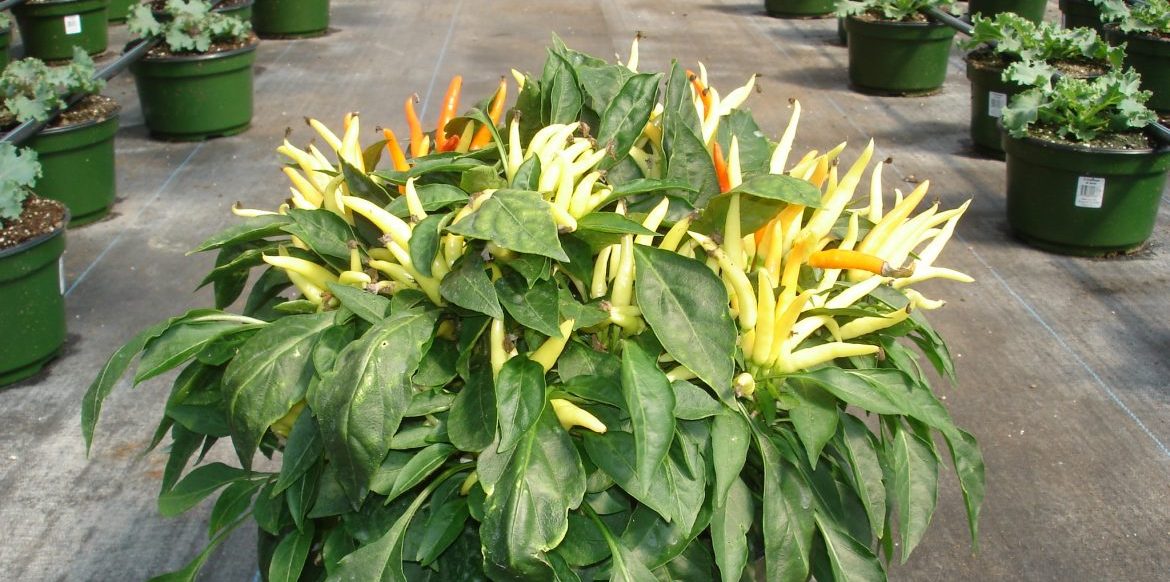 Can you eat ornamental peppers?
Riverside Greenhouses plants a wide variety of ornamental peppers in 5″ and 8″ pots. Acapulco, Salsa, Medusa and Sangria are just a few of the varieties we grow.
Ornamental peppers are truly beautiful – from the onyx-like Black Pearl to the colorful Bolivian Rainbow. But are the fruits of these plants more than just window dressing? Can you eat ornamental peppers, or are they just for show. The good news: ornamental peppers are safe to eat. But there's a little bit of a catch.
Cooking with ornamental peppers – prepare for heat
That's right, go ahead and try these uniquely beautiful chilies in your next dish, but know going in that they are often surprisingly spicy. How spicy? Both the aforementioned Black Pearl and Bolivian Rainbow peppers range from 10,000 to 30,000 Scoville heat units. In comparison to our jalapeño pepper reference point, that's approximately four to twelve times hotter than a jalapeño. They can be even hotter than a serrano chili, closing in on the low end of cayenne pepper. And then you have the likes of the NuMex Twilight – a sight to see – but weighing in at 30,000 to 50,000 SHU – the equal to cayenne.
Related
---
AbeW
Riverside Greenhouse is a wholesale greenhouse located in North Jersey that provides a consistent availability of plant products throughout all four seasons. Flowering annuals are carefully grown and sold in flats, various sized pots, and hanging baskets for spring, summer and fall. Mums, Cabbage, Kale, and Pansies are grown for the fall and Poinsettias for the winter. We supply products to Garden Centers, Florists and Landscapers in the tri state area.